Dr. Benjamin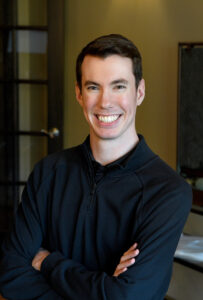 I graduated from Northwestern Health Sciences University with my Doctorate of Chiropractic with Sports Emphasis with Internship. I was active in student professional association work during my schooling, and I served in numerous leadership roles, including as National Legislative Chair for the Student American Chiropractic Association, and as President of the American Chiropractic Association Sports Council Student Executive Committee. I also recently completed a Master's of Science in Exercise Science at Concordia University – St. Paul. Before my graduate work, I completed my undergrad at Saint John's University, where I received a Bachelor of Arts in Psychology. During my time at Saint John's, I was an active member of the Men's Chorus and Chamber Choir, celebrating my lifelong passion for music.
I am currently Graston certified, and have attended numerous conferences and completed multiple seminars all geared to providing the best care for my patients. I have a special passion for helping my patients restore movement and function in their daily lives, to get them back to doing the things they love! I have benefited immensely from chiropractic care in my own life following a bus crash that left me with chronic neck pain and limited movement. It was through chiropractic that I was able to return to my normal life, and get back to doing the things I love without pain. I became a chiropractor to provide that same compassionate, successful care for my patients. I love chiropractic's focus on treating the whole person, because when one part of our health is compromised, our entire person suffers.
In my free time I enjoy music, storytelling, playing golf, and being active with friends and family. I cannot wait to help you get back in alignment, and back to doing the things you love!